How to increase confidence in the accuracy of your sales and financial forecasting.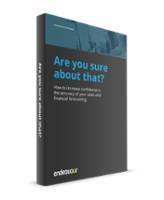 Nearly all popular ERP, BI and Performance Management systems offer "forecasting" functionality. But nearly all fall woefully short of delivering on forecasting's full business potential.
Why do we care?
Because forecasting, when based on advanced analytical methods, is arguably the single greatest contributor to operating efficiency, savings, and customer satisfaction—across all industries. It's critical to define what forecasting is, and then begin to separate it from the many business intelligence capabilities that are so commonly marketed as forecasting.
''The foundation of forecast accuracy, sales and financial included, is that your baseline assumptions come from statistical analysis of the past (plus anything you know to be different about the future). Anything short of this first layer of statistical analysis will produce less accurate results." –CCH Tagetik Supply Chain Planning (Endeavour's sales and financial forecasting software partner).
What is forecasting?
Forecasting is the science of planning based on what is most likely to happen. Business intelligence, rather, enables planning based on what has already happened.
Cloud-based forecasting is the future (and the present)
Many organisations are trying to harness the power of their mountains of data, moving manual, spreadsheet-based forecasting to more real-time, integrated approaches. Cloud-based tools that connect directly with data sources and then apply analytics can efficiently produce all kinds of insights and data points.
Build you forecasting foundation with statistics
The danger for businesses is that the ease of collecting and collating information can obscure the need for building a solid foundation of statistical analysis. Without a solid, agreed foundation, confidence in forecasts can erode.
Beauty vs. functionality
While many modern ERPs or business intelligence and reporting tools have forecasting tools built into them, enabling beautiful models to be created, the fundamental flaw can be that the base data is not statistically valid.
How to be confident in your forecasting
Applying the right predictive analytic tools to historical data to derive valid patterns and relationships puts you on a more solid footing. And ultimately provides more confidence in those planning forecasts you are about to make.
Download the sales and forecasting insights paper to learn about:
The importance of forecasting for businesses
Analytics-driven approaches to forecasting
Foundations of forecast accuracy
Endeavour's forecasting solutions partner,CCH Tagetik Supply Chain Planning
Fill out the form to download your copy of the sales and forecasting insights paper.